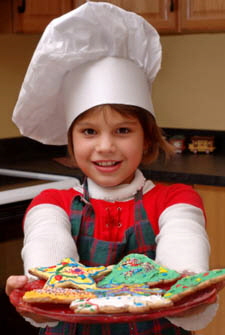 The Christmas Cookie Party
The Holiday Season is here and your child has a birthday right in the middle of it all. So what can you do to celebrate their birthday while keeping in step with the season? How about a Christmas cookie party!

For invitations, create a Christmas cookie plate full of cookies. Use colored stamps or create the art on your computer and print them out complete with your party information. Say something like; "Come celebrate two birthdays this Christmas." "We're baking up some cookies for our Christmas star!"

Set up a table near the kitchen with enough seats for all the kids invited. Buy or sew little Christmas aprons for each of your guests and let them wash up and prepare for baking. Tie up little sets of cookie cutter gifts for each of your guests to use at the party and to take home along with their aprons.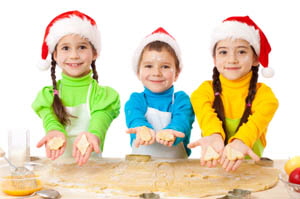 Christmas Cookie PartySet up a decorating plate in front of each chair and place the decorating goodies in the middle of the table. You can buy colored icing in tubes or cans, complete with decorator tips to allow you to create fancy designs. Don't forget to get sprinkles and colored sugars to add to the fun.

With a little bit of planning, you can have most everything prepared ahead of time to make it easy on yourself, especially if you are entertaining young chefs. Mix your dough prior to the party, stored in the refrigerator ready to bring out and bake. In fact, you can even pre-cook the cookies and have them ready to decorate if that's what makes the most sense.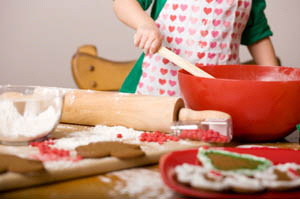 When everyone arrives, roll out some dough, 1/4 inch thick, on a lightly floured surface and let your guests use their cutters to cut out cookies. Place the cookies on an ungreased cookie sheet, brushing them with a mixture of beaten egg yoke and water to glaze. Pop them into the oven at 325 degrees for fifteen minutes or when the edges begin to brown.

Christmas Cookie Dough Recipe:
1 1/4 cups butter (no substitutes)
1 cup sugar
1 teaspoon vanilla
2 eggs
4 cups all purpose flour

Glaze:
1 beaten egg yoke
1 tablespoon water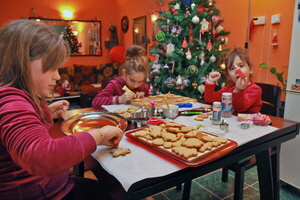 Beat the butter in a mixing bowl with the mixer set to medium for about half a minute. Add sugar and vanilla and beat until combined. Next, beat in the eggs. Then keep beating as you add flour and when it gets too thick, remove from the mixer and beat with a wooden spoon, adding the rest of the flour. If necessary, knead the dough until smooth. Divide in half, cover and chill for about 1 to 2 hours when it is easy to handle.