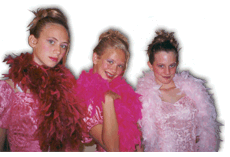 The Dress-Up Fashion Show

My daughter and her friends were so excited when they heard the knock on the door. It was Lisa and her two assistants from Sugar-N -Spice Formal Dress-Up Parties ready to provide each girl with her own individual make-over, followed-up with a photo shoot to capture the exciting results.

Lisa and her friends got right to work setting up the racks of dresses, trunks of accessories and three small tables with really cute floral tablecloths. All the girls buzzed around the fashion artists as they setup for the big event. Each table had its own set of two darling little director's chairs. You see, Lisa and her friends each specialize in something different and they were setting up the different makeover stations. Lisa had each of the girls pick out a dress and sent them off to the first makeover station.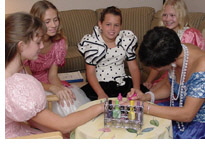 The first lucky party guest sat down in the director's chair at the nail station and the nail specialist went right to work. She had an assortment of beautiful nail colors all set up in a cute little makeup box. Our first girl picked out pink and soon her nails were transformed into works of art.

By the time she got to the second station, the room was filled with non-stop chatter as everyone discussed each other's style and look. The hair stylist had all sorts of hair products ready to go at her station; gel, hair spray, coloring, clips, etc. She soon had her hair up and twisted into the most stunning style. The other girls watching were all oohing and aahing as their friend turned into a star!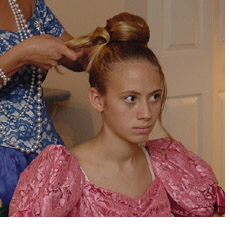 The last station was the makeup station. Oh glory day! What more can a girl ask for then to have her face made up like her mom's. Eye shadow, lipstick and blush were the key ingredients for the look and did they ever look cute! I thought my house was full of movie stars.

Once the girls completed their makeovers, they visited the craft table where they decorated and personalized their own keepsake photo frame.

When all the girls were ready, we turned on the spotlights, music and began the big fashion show! At first it was one girl at a time and soon the group was up play-acting and talking as if they were all living back in the days of Gone With the Wind - - Discussing their lives with Rhett and their homes back at Tara.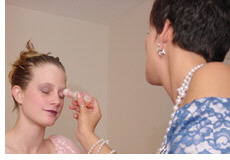 You can put on your own dress-up party by inviting a couple of friends over to help with the hair, makeup and nails. Find as many old dresses as you can, in the attic or at the second hand store and prepare the dressing area. Go to the discount store and pick up some nail polish, hair accessories and makeup. Set out all the items on a table and let each girl pick out her own colors and accessories that she can take home with her as a party gift after she has received her makeover.

All the girls had a simply smashing time and can't wait to do it again! This party is a must for every young girl. Just sit-back and watch the show. In fact, if you would like to see ours, just check out the video clips at the bottom of the page!

We would like to thank Lisa and Sugar-N-Spice Formal Dress-Up Parties for the great fun and memories. She and her friends are truly great at what they do.

There is nobody more beautiful than you Scarlet.