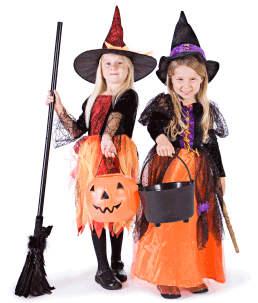 Halloween Party
by Marisa


You can have a really scary Halloween party by turning your house or apartment into the creepiest haunted shack on the block! You can start by covering the inside and outside of your house with spooky spider webs. You can purchase them at most discount stores or Halloween specialty shops.

What's a haunted house without ghosts? You'll also need plenty of spooks in your haunted house. You can't enjoy the party if you're the one walking around with a sheet over your head. So make your own ghosts to decorate the house with.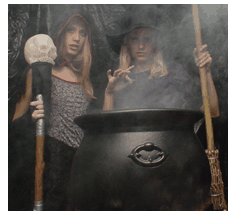 Use a old white bed sheet and spread it out on the floor. Search your house for some kind of stuffing, like tissue, paper towels, or cotton balls. Make a pile of your stuffing in the middle of the laid out sheet. There should be enough to form a large head. Now gather the corners and sides of the sheet to form the head of your ghost. (The stuffing should be in a big ball under the sheet.) Put a rubber band around the neck of your ghost to keep it firmly in place. There, you've got your ghost. BOO! You can make a whole bunch of these "ghosts" and draw scary faces on them if you'd like. How about sound effects?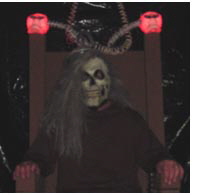 A lot of haunted houses fill the air with moans and screams. You can have all sorts of spooky noises in your house by buying cassettes that provide all sorts of Halloween sounds. There are door mats you can buy that when stepped on, scream from beneath your feet. If you don't want to spend a ton of money on cassettes and mats, then if you want you can record your own scary sounds on a regular blank tape at home. You can record screams, evil laughs, cackling witches, and a whole lot more. Just play them at your party and your guests will be having the time of their life while also being scared out of their pants!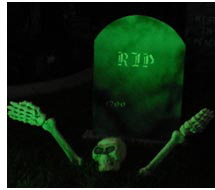 If you really want your house to "glow," you can use black lights as a replacement for the regular light bulbs. It will make anything white, glow in the dark! Also, dry ice is very important if you're going to be having a witch's cauldron. Fill the cauldron with warm water and drop in two or three pieces of dry ice and misty smoke will be pouring out of the cauldron like a real witch's brew.



Be sure and check out the BIG LIST of Halloween Party Ideas!