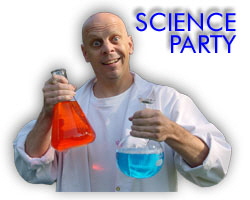 Our neighbors down the street were having a science party for their son's 9th birthday. They hired a scientist from a company called Mad Science to come to the party and perform experiments and create chemical magic. Once I found out about the scientist, you can bet I was going to be there!.

When Scientist Bob arrived, the kids started swarming around all the gear he was bringing in. Two big crates, some buckets, some bags and a couple of ice chests. He set up his gear and a table in the backyard where there was plenty of room for everyone to see, even the parents. Bob was just what you would expect to see in a scientist -- Wearing a long white coat and bursting with energy, he got the kids so excited they couldn't wait to see the first experiment.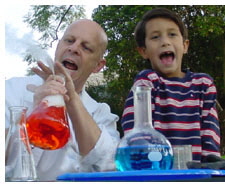 First, Scientist Bob reviewed the ground rules to ensure safety. I was happy to hear that even a Mad Science Scientist was thinking of safety. Next, he started doing some magic tricks. He brought out some paper and began tearing and shredding and before you knew it, had made the American flag. The magic tricks really got the kids excited and were now ready for the big stuff.

Scientist Bob brought out some bottles, gloves and other scientific utensils and set them up on the table. He picked up one of his special laboratory bottles and began mixing a bright orange potion. He reached in a bag and pulled out some magical little white rocks and just before he dropped them into the the potion bottle, he started to laugh - - Just like a mad scientist. Soon we were all laughing like mad scientists! He dropped them in the water and it started to smoke, steam and bubble.

In the next bottle, Scientist Bob mixed a special blue potion. Once again we all started laughing like mad scientists and he dropped in some more magical little white rocks. It started foaming like a volcano!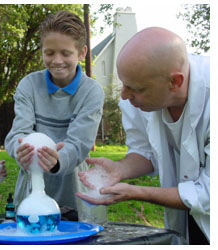 He let the kids come up and hold the bubbling foam in their hands. And as you can guess, soon the kids were wearing foam beards!

Scientist Bob put the potions away and brought out some really special paper. He held a piece of it up in the air and clicked a little wand and it disappeared in a flash. It went up in smoke faster than you can blink. This is definitely one you don't try at home without a professional!

Next, Scientist Bob brought out an egg he called EggBert. He drew a face on it and did a little egg ventriloquism. EggBert said he was dirty and wanted to take a bath. There was only one problem, we could not get EggBert into the bath bottle. He just would not fit. EggBert sat up on top of the bottle and would not go in. So, Mad Bob dropped a piece of burning paper into the bottle. The little fire burned up all the air in the bottle and when he placed EggBert on top this time he dropped right in. Totally cool!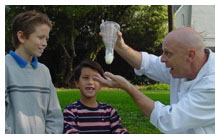 My curiosity about the buckets were soon answered when Scientist Bob brought them out and a big bag of magical white rocks. He filled the buckets full of warm water and dropped in the magical white rocks. Talk about some smoke! It was everywhere. The smoke was pouring out and billowing through the crowd. It got so thick that I couldn't see the couple of kids who climbed into the middle to the thickest cloud!

The kids really loved the mad scientist and all the really cool experiments. Since then, others I know have thrown science parties.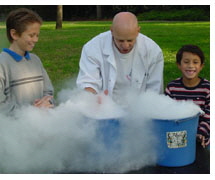 It really is big right now especially with all the excitement around the Harry Potter books.

We would like to thank our Mad Science Scientist Bob and Mike, who operates the Mad Science lab for the Los Angeles area. It was really cool to learn while having fun. Mad Science is the world's leading fun science provider. If you live in the Greater Los Angeles area and would like to have a Mad Science scientist come to your party, give Mike's lab a call at 818-909-6777. He has many different party plans to choose from or can specially design a party just for you. If you don't live in the Los Angeles area then check out the Mad Science web site or contact them for the nearest Mad Science lab.