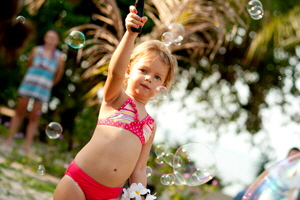 Summer Fun Beach Party!
By Brad Maxwell
Beach parties are super summer fun especially when they are well planned, held at a great beach location, include delicious summer foods and exciting activities!

For a great beach party location, find a beach with calm surf, clean restrooms and a grassy area with trees and picnic tables. Everyone who wants to stay cool can lounge in the shade of the trees and those who want to get wet can stroll to the beach.
If you can't find a beach with shade, make your own by setting up a large canopy or two. Be sure to set-up near a lifeguard and take turns maintaining beach supervision for the younger ones.

Some beaches, bays and lakes also offer watercraft rentals like paddleboats, sailboats and rafts. This just adds to the fun when everyone gets to take a turn. If your party is going to stretch into the evening, find a location that allows fires so you can include a moonlight marshmallow roast.

To ensure the success of your beach party, be sure to put together a fun summer menu. Bring along a barbecue and cook-up some hamburgers and hot dogs. Throw in some vegetable burgers for those who prefer non-meat.
Prepare as much as you can ahead of time and place lettuce, tomatoes, buns and other condiments in aluminum or plastic trays so that all you have to do is to uncover them. Spice up your burger toppers with different add-ons like pineapple slices, mushrooms and avocados. An option for those who prefer cold sandwiches is to cook up chicken breasts ahead of time, slice them into thin pieces and set-up a build your own chicken breast sandwich buffet.

Don't forget all the extras like potato salad, macaroni salad, vegetables, chips and dips. Be sure to keep perishables cool by bringing along a couple of large ice chests that accommodate your prepackaged aluminum and plastic trays so you can quickly store them in the cooler when not being used or bring them out for those that are ready for a second helping.
Set up a dedicated cooler with sodas and water and let everyone help themselves. If your location is close to a store, plan on having someone run over and pick up some ice cream, chocolate syrup, nuts and whip cream - - Nothing tops off a summer feast like a super summer sundae!

Decorate the buffet table by covering it with a beach blanket and then top it off with your old surfboard. Arrange the food so that you fill your plate as you move down the surfboard. A large size "log" surfboard works best. If you don't have a surfboard, you could always make one out of plywood and paint it to look like the real thing. In fact, you could even stand up two or three around the main area to give your beach party that surfs up look!

Bring along a radio and play music by the Beach Boys or tropical steel drums to keep with the theme. Be sure to plan some fun games and activities that include getting a little sandy and a little wet, preferably in that order.
Start with island limbo to see who can go the lowest under a bamboo pole. Then team up children with adults and see who can build the best sandcastle. Bring along water balloons and have teams of two toss them back and forth to each other moving further apart with each toss to see who can toss them the farthest without breaking them. Remember that everyone is a winner!

For invitations, write all the party details on inflatable beach balls and mail them to everyone deflated. Everyone will have to bring along the beach ball for directions to the party and this also provides another fun beach activity.