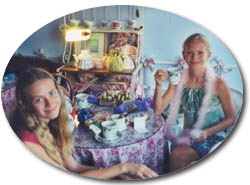 The Tea Party

by Marisa
Girls love tea parties, whether they're a toddler, pre-teen, or a Grandma. So why not satisfy their love for tea by throwing them a tea party for their Birthday!

First find a great location to hold the party -- How about a tearoom or outside in the shade. If you're looking for a restaurant style tea party, check the yellow pages for a tearoom with great tea, great service, and a super atmosphere. If your back yard is big enough, have a great outdoor tea party, by a garden if possible, and set up tables with a floral pattern tablecloth to match the tea set.

As for the invitations, you can cut out teapot-shaped cards, add a bag of tea and send it out. Or, if you have the time and money, you could deliver to each person a teacup with the invitation painted on the cup. They can keep the cup as a souvenir or bring it to the party to use.

If you're planning on decorating the party in a fun, creative way, than here are some ideas:

For an inside party, decorate the walls by placing teapots, teacups or spoons on dressers and shelves. You can hang pastel colored streamers from the ceiling and walls along with the most important accessory - balloons. Decorate the balloons by drawing teapots and colored flowers on them with markers, then hang them on the streamers or the walls.

If you're having your tea party outside, set up the tables under a tree or in a shady place. You can also hang flowers around the tables on a post or a fence to give the party a more fancy look. If the party members are old enough, light candles and place them on the table or use tall candle holders and stick them in the ground. This gives the party an older look.

If you'd really like to decorate the tables, you should start out by using bigger tables, that way, you can fit all the needed place settings neatly and still have room for decorations without squeezing everything together. In front of every place setting, have a nametag for every member of the party so they know where they're sitting. Or, have your guest make their own nametags, decorating them with markers and then placing it where they would like to sit. Use floral or teapot decorated table clothes to fancy up the table and if you want a centerpiece, use an old teapot for a flowerpot. Plant pretty flowers in the teapot and place it in the center of the table.

If you're planning on passing out party favors at the tea party, then you'll need to find some small, inexpensive little surprise goodies. Get creative and buy the goodies an arts and crafts store. There, you'll find trinkets such as beads, stamps, stickers, or stationary. Stuff these little things into a little bag or small boxes for each gust. If you're the artistic type, then maybe you'd prefer to paint little wooden or ceramic tea pots and plant artificial flowers in each one. The guests can take them home as a souvenir and memory of the tea party.

"Cheerio!"