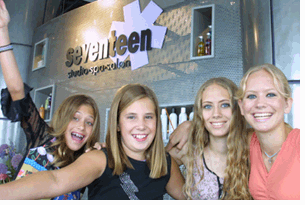 So the girls are growing up and instead of playing with dolls and dress-ups, they're becoming experts with makeup, hair mousse and shopping at the mall. They're probably in high school or a year or so away from their freshman year. They're beginning to tell you things that you didn't know and are eyeing the driver's seat in the car rather than being content sitting and playing in the back. You have a teenager on your hands and you want to throw them a birthday party. Well don't sweat it - there's a new salon in town and it offers everything you need to help keep your teen happy!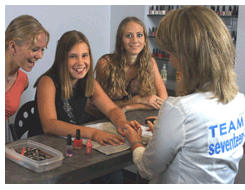 Seventeen Studio.Spa.Salon just opened its first location in Plano, Texas. Just 15 miles north of downtown Dallas in an area that is known as North Dallas - big beautiful homes, big shopping malls, big style, big Texas! This new salon offers manicures, pedicures, hair cuts and styling, makeup and makeovers , internet cafe, beauty supplies and snack shop. Its available for individual visits, like any regular salon, or for a group of girls having a party or event. They do it all with a style and flare that will give your teen the feeling that she's a super star getting ready for the big premier and a walk down the red carpet!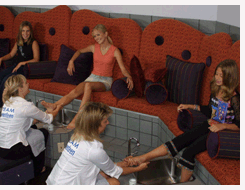 Our party started with the girls sitting at the nail bar, which seats about ten, getting a maincure and colorful nail polish from the two "Team Seventeen" Specialists that were assigned to our party. The girls all had a super time picking out really wild colors - blue, green, black, etc. Here they had every color imaginable. The specialists could even apply "nail art" which is like painting a miniature Picaso on each dainty fingernail.

Next, we moved to the pedicure area in a large round room with a giant wrap-around couch that looked so plush it could be from the South Fork Ranch.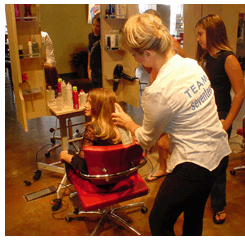 There were eight specialized pedicure stations, but the couch is big enough to seat three times that number. Each station had a special sink that the girls could put their feet in while the Specialists began washing and massaging their aching little toes. This seemed to send the teens off into a relaxed and heavenly state. It looked so good, that the parents wanted to sit down and give it a try. It would certainly take the edge off a long day at the mall.

The girls then moved on to the hair stations for a trim and style. The Team Seventeen Specialists gave each of the girls a new look using special hair sprays, gels and mousse. The hair stations have that look and feel of a studio with bright red seats, chrome and brushed steal frames and special lighting all around. They all looked like beautiful movie stars waiting for the director to turn the corner and say "ready on the set in three".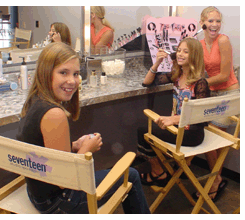 Last stop on our party list was the makeup and makeover room, adding the finshing touches to our beautiful teens. Each of the girls sat up on the tall director type chairs in front of the giant glamour mirror while the Specialists helped them pick out the right colors and blends for their skin. The Specialists explained the right way to apply each type of makeup and the correct amount to use. Each of our girls finished up looking like they were ready for the prom. There are special milestone moments in life when you realize your girl is growing up. This is certainly one of those memories you will never forget.

As the girls finished their makeovers, they took a seat at the internet cafe where they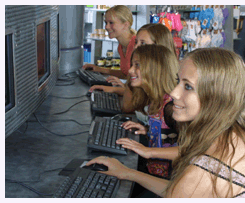 could log onto a computer and play games, send email, watch music videos from Jennifer Lopez, Jessica Simpson and all the other super stars on the internet. The girls could also visit the Seventeen Studio.Spa.Salon store and shop for makeup, beauty supplies, hair supplies and stylish Seventeen logo clothing.

Once everyone was finished, the party moved to the Seventeen Cafe area of the salon, where the girls had their choice of sodas, smoothies, tea or coffee. This is also where we decided to serve the cake and open the gifts.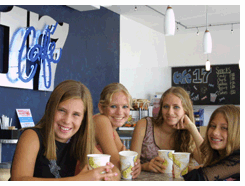 If you live in the Dallas area, you can set up a party at the Seventeen Studio.Spa.Salon. If you live in another area on the globe, find a salon near you and see if they offer a salon type party. If they don't, simply propose the idea and put together a special day for your teen's birthday.

We would like to offer a special thanks to Susan and Krista for the really exciting time during our visit to the Seventeen Studio.Spa.Salon.

by Brad Maxwell - July 2002