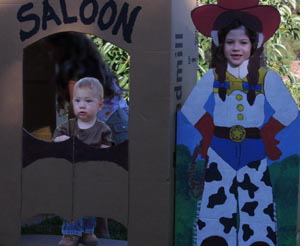 1st Western Roundup
by Brad Maxwell
August, 2002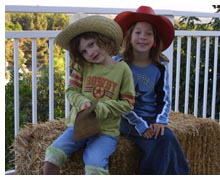 "Oh give me a home, where the buffalo roam. And the deer and the antelope play. "

If your little Buffalo Bill or Calamity Jane is turning one, than its time to get together for a root'n toot'n Western Roundup. If ya all are having a hankering for some backwoods country vittles and the kids have started wearing their hats and boots around the cabin, then maybe its time to throw open the gates of the corral and light up the ol' barbecue.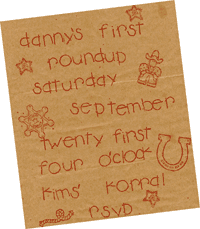 All kids love to pretend they're living out in the country, riding on stick horses dressed up like cowpokes. So my sister knew she couldn't miss putting together a 1 year old's Western Roundup. Of course it's really not just for a herd of one year olds, but for a lot of older siblings and parents too.

The first thing you need is a really cool invitation that "sets the stage" and lets your invitee know they're in for a really good time. The one my sister put together for her roundup looked like an old western letter. She found some brown paper that had a western look to it and bought a set of western stamps that included every letter of the alphabet and some western looking characters.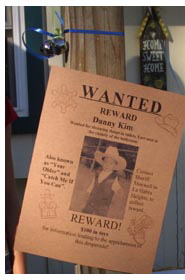 She stamped each invite using brown ink and sent them out in brown envelopes. Of course, you could use your computer to print out the invites if you can find a good western font.

For decorations, she borrowed bails of hay from the neighbors and placed them on the front porch, the side deck and around the play area out back. There were lots of balloons and streamers and a special ranch sign that you had to go through to get to the house. Its one of those signs that hangs over a ranch gate - the kind that might say something like "OK Corral", but hers said "Danny's Rancho!" Really very cool! As you entered the house, you immediately received a cowboy hat and a bandana - red, blue or yellow. You've got to be dressed right to attend a Western Roundup.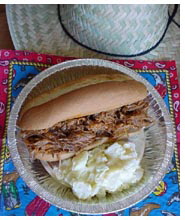 She also made a special wanted poster for every child at the party. The posters were made on a computer using digital pictures, finishing off with each outlaw's nickname and what they were wanted for. There must have been 30 to 40 of these posters hanging up all over the house and around the side deck. Everyone got to take their posters home once the party ended. I think everyone got some kind of reward.

You can bet none of our cowpokes went hungry with a real country all-you-can-eat barbecue. There were barbecue beef sandwiches, barbecue beans, potato salad, green salad, deviled eggs and all the soda and lemonade you could drink. And to really add a fun country touch, the lunches were served on tin plates. All that was missing was a campfire, the moon and some coyotes howling in the night!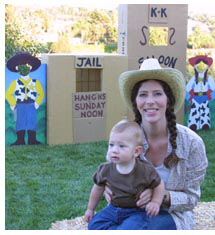 If you wanted to ride into town (Dodge City?), all you had to do was head to the back play area where my very creative sister built a small western town, complete with a jail, saloon and a couple of cutout cowhands. Our little cowpokes seemed to enjoy arresting the bad guys and locking them up in jail more than hanging out in the saloon. Parents seem to enjoy the cutouts cowhands as much as the kids -- I think every parent took advantage of this photo opportunity!

These are just a few of the thousands of ideas that are available to make your Western Roundup a success.

"Take me back to the Black Hills, the Black Hills of Dakota."...." Where the pines are so high that they kiss the ski above."