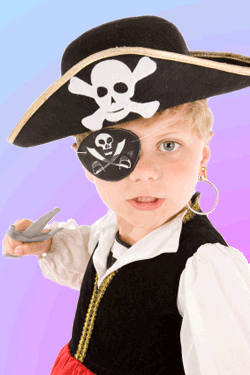 Shiver me timbers! Ahoy ye hearties and avast thy chase for a booty of pirate party ideas are right here on this site which marks the X. For all sea dog pirates who are searching for party idea treasures for their young swashbuckler, look no further. For here lies the Pirate Party Ideas shared by parents from around the world!

Are you ready to transform your home into a family fun Caribbean port and your backyard into a pirate ship? Pirate parties only come once in a lifetime and you want to make it one that your little pirate will remember forever.

All the ideas you need for a perfect pirate party are divided into sections for invitations, decorations, activities, games, costumes, favors, party snacks and cake. Read through the ideas and use the ones that work for you!